About the artist
Autogena and Portway have worked together since the early 90s, developing large scale performances, multimedia installations and site-specific works, usually in collaboration with organisations and experts across many areas of knowledge. Through the use of custom built technologies and visualisations of global realtime data, their work has explored how economic, geographic, technological and societal systems we create are impacting on our human experience and sense of self in the world.
Work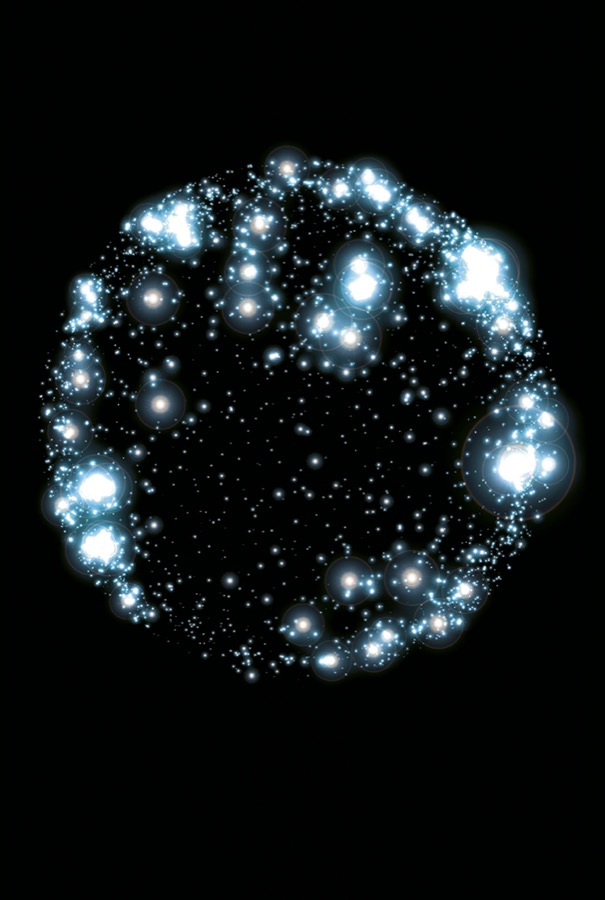 Black Shoals; Dark Matter
2015
Black Shoals; Dark Matter is a real-time representation of the financial markets, driven by live trading data from the world's stock exchanges. Companies are represented as stars that flicker and glow in real time as shares are traded around the world. The brightness and duration of the glow indicates the volume of the trading activity. The stars slowly drift in response to the complex currents of the market, clustering and dividing into slowly changing nebulae, galaxies and constellations.
Feeding on the light of the stars is an ecology of artificial life creatures. Starting from first principles, initially unable even to move, they must survive in an environment composed entirely of money. The evolution of the creatures is open-ended and it is unknown how sophisticated they can become.
Black & Scholes
Fischer Black and Myron Scholes invented the Black Scholes formula in 1973. The formula attempts to eliminate the risk involved in options trading and is the basis for most modern investment theory. The formula was the cornerstone of their investment company Long Term Capital Management.
Black Shoals; Dark Matter is an evolving project, started in 1998 – the year that Long Term Capital Management collapsed. It was first exhibited at the Tate Britain in 2000.
Installation supported by Thomson Reuters and Fulldome.pro.